Remember, for works cited list entries, you will always need to give the full citation information. The basic elements for articles from a KPU database consist of:
Author

Title and (if available) subtitle of the article

Publishing information: Title of the journal, volume and (if available) issue number, page numbers, Database name, https://doi.org/xxxxx (if available)

Date
You usually find this information in the article details provided by the database or somewhere on the first page of the article.
Example: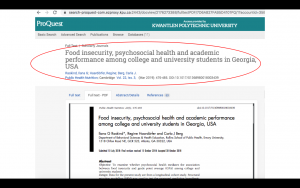 Citation elements: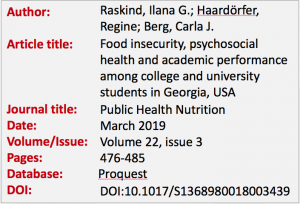 What does DOI mean?
The DOI (digital object identifier) will lead the reader to a stable webpage. It is a system that was developed so the reader would not encounter a broken link.
MLA Basic Article Template
Author last name(s), Full Given Names."Title: Subtitle of the Article."Title of the Journal, vol.  #(no. # if available), Date, page #-page #. Database name, https://doi.org/xxxxx (if available) 
Works Cited List Entry for this Article
Raskind, Ilana G., et al."Food Insecurity, Psychosocial Health and Academic Performance among College and University Students in Georgia, USA.."Public Health Nutrition, vol. 22, no. 3, Mar. 2919,  pp. 476-485. Proquest, doi:10.1017/S1368980018003439. 
To see an example for a paraphrase from this article, click below.