4

Open-source Word Processing Tools

Isaac Mulolani
By the end of this chapter, the reader will be able to:
Identify the various open-source word processing tools for creating OER
Identify word-processing features appropriate for the creation of OER
Describe additional tools that can be used in conjunction with open-source word processing programs
Open-source Word Processing Options
Following on from the previous chapter, we will now look at open-source options. In this chapter, there are a couple of tools that complement the word processing tools that will be discussed. The first tool will be LibreOffice which started as a fork of the OpenOffice office suite. This free suite is used by millions of people around the globe.
The next tool to discuss will be the familiar Google Docs which is a cloud-based free word processing option. These tools allows online collaboration and sharing of documents. The software suite now has the ability to extend the functionality of the software using a number of add-ons.
When creating documents in word processors, there are times when pictures, graphics and photos are needed. As was mentioned in the previous chapter, any graphics to be used in a document need to be either created or brought in from image repositories. This is usually done with external tools. In this chapter we will look at GIMP (Gnu Image Manipulation Program) , a free tool that can be used in support of document creation. Another free tool is called Inkscape which is a drawing program. Inkscape  has been considered by some to be an open-source version of Adobe Illustrator.
LibreOffice
LibreOffice is compatible with a wide range of document formats such as Microsoft® Word (.doc, .docx), Excel (.xls, .xlsx), PowerPoint (.ppt, .pptx) and Publisher. But LibreOffice goes much further with its native support for a modern and open standard, the Open Document Format (ODF). With LibreOffice, you have maximum control over your data and content – and you can export your work in many different formats including PDF.
The LibreOffice website describes the software to be a successor to OpenOffice that has a world-wide user base. It contains several applications:
Writer – for word processing
Calc – for spreadsheets
Impress  – for presentations
Draw – for vector graphics and flowcharts
Base – for database
Math – for editing formulae
For the sake of this writing, our interest is to see how many features LibreOffice's Writer provides in comparison to Word. The following table provides a comparison of the two word processors.
| Feature | Word | LibreOffice |
| --- | --- | --- |
| Fonts, Font Size | Yes | Yes |
| List Environments | Yes | Yes |
| Line & Paragraph spacing | Yes | Yes |
| Styles | Yes | Yes |
| Editing - Find, Replace, Select | Yes | Yes |
| Office Dictation | Yes | No |
| Editor - Spell Check, Grammar, Writing suggestions | Yes | Yes |
| Pages - Cover Page, Blank Page, Page Break | Yes | Yes |
| Tables | Yes | Yes |
| Illustrations - Pictures, Shapes, Icons, 3 D Models, Smart Art, Chart | Yes | Yes |
| Add-ins - Get Add-ins, Wikipedia | Yes | No |
| Media - Online Videos | Yes | No |
| Links - Link, Bookmark, Cross-reference | Yes | Yes |
| Comments | Yes | Yes |
| Header & Footer | Yes | Yes |
| Text - Text Box, Quick Parts, Date and time | Yes | Yes |
| Symbols - Equation, Symbols | Yes | Yes |
| Document formatting - Colors, Fonts, Paragraph spacing, Effects | Yes | Yes |
| Page Background - Watermark, Page Color, Page borders | Yes | No (only watermark) |
| Page Setup - Margins, Orientation, Size, Columns | Yes | Yes |
| Paragraph - Indent, Spacing | Yes | Yes |
| Arrange -Position, Wrap Text, Bring Forward, Send Backward, Select Pane, Align, Group, Rotate | Yes | No |
| Table of Contents | Yes | Yes |
| Footnotes - Footnotes, Endnotes | Yes | Yes |
| Research - Search, Researcher | Yes | No |
| Citations & Bibliography - Citation, Manage Sources, Style, Bibliography | Yes | No (only Bibliography) |
| Captions - Insert Caption, Insert Table of Figures, Cross-reference | Yes | No (only cross-reference) |
| Index | Yes | Yes |
| Table of Authorities | Yes | No |
| Proofing - Editor, Thesaurus, Word count | Yes | Yes |
| Speech | Yes | No |
| Accessibility check | Yes | Yes |
| Language - Translate, Language select | Yes | Yes |
| Comments | Yes | Yes |
| Tracking - Track changes, Show Markup, Reviewing Pane, All Markup | Yes | Yes |
| Changes | Yes | Yes |
| Compare | Yes | No |
| Protect - Restrict Editing, Block Authors | Yes | Yes |
| Ink | Yes | No |
| Resume - Resume Assistant | Yes | No |
Table 4.1 Comparison of features in Word vs LibreOffice
A more detailed comparison is provided on the Document Foundation Wiki. This contains a comparison between LibreOffice 7.3.0 vs MS Office 2021/365.
One of the key differences from examining the Writer menu is that LibreOffice has a Form tab with options for creating forms.
LibreOffice Extensions
A very interesting feature of LibreOffice is the ability to install extensions through the Extension Manager under the Tools tab. The LibreOffice Extensions page has a list of extensions and the ability to search for extensions as well. Clearly, this adds many more features and/or templates that a person can install to use for document creation. One example is that for those needing it, there is an APA extension that can be installed.
Additional LibreOffice Tools
LibreOffice comes with the Draw program which enables you to draw some limited picture elements. This is helpful for creating simple graphics for inclusion in documents. Another included program is the Math program that may be useful for some people. The Calc program is the option for working with spreadsheets similar Excel.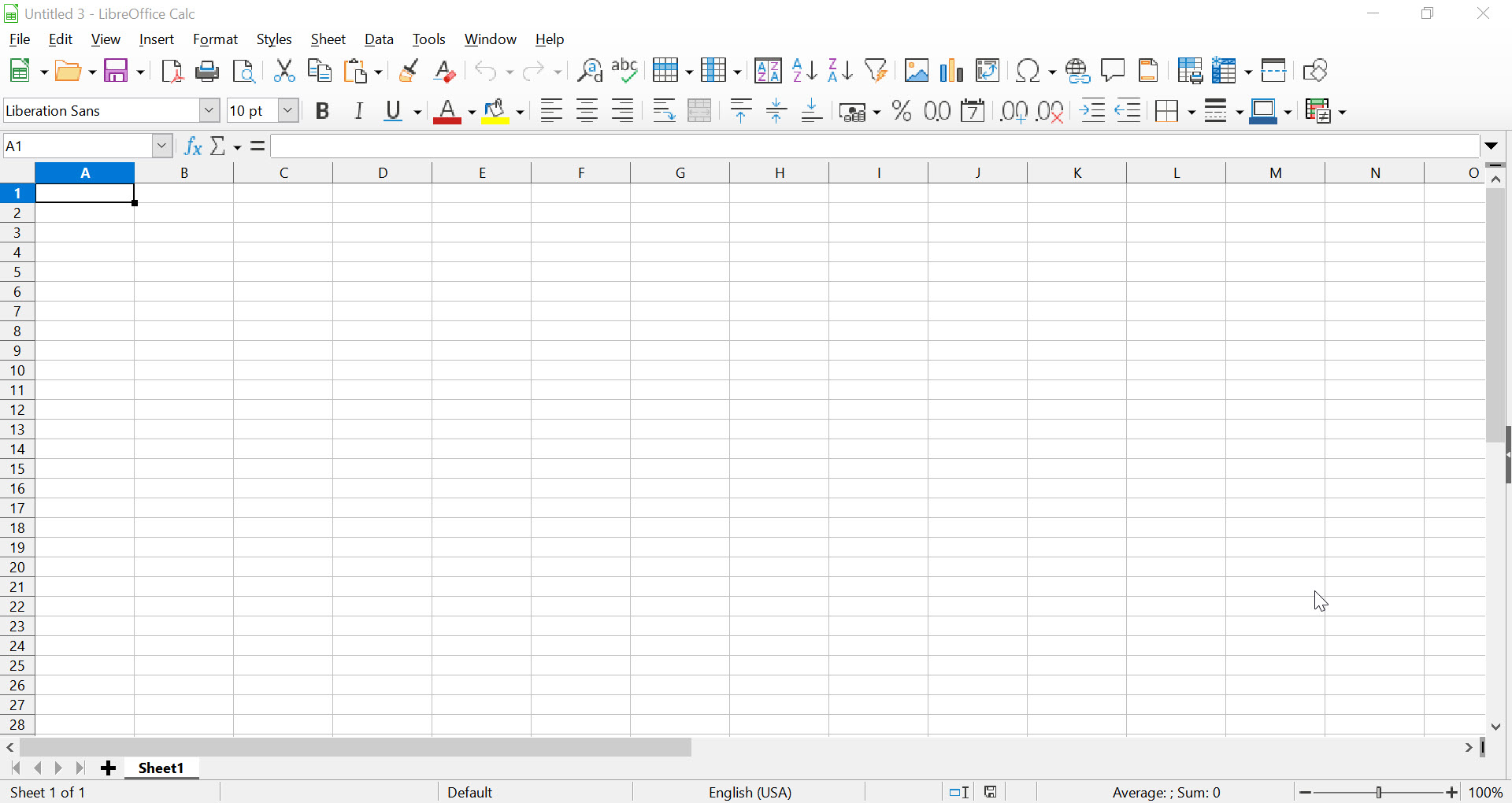 Impress provides the ability to create presentations in a similar manner to PowerPoint.
Presentation created in PowerPoint can be edited within Impress since LibreOffice supports the file formats from Office 365. Some of the features of Impress are described  in the H5P below.
Reasons for lack of Popularity of LibreOffice
The Linux Pro Magazine in their Winter 2020 issue 40, featured LibreOffice in this issue. One question addressed is, if LibreOffice really is totally free and compatible with Microsoft Office, then why hasn't the whole world moved over to it? Why is MS Office still popular around the world? Here are some key reasons.
What is the OpenDocument Format?
LibreOffice uses the OpenDocument Format (ODF), a fully open and ISO standardised file format that guarantees access to your data forever. (You can, of course, encrypt your documents with a password.) Because ODF is standardised, other office software can implement support for it as well – and many programs have done so. By using ODF, you ensure that your data can be transferred between different computers and operating systems, without having to worry about vendor lock-in or license fees.
ODF extensions
Typical extensions for ODF files include the following:
.odt – a text document
.ods – a spreadsheet file
.odp – a presentation file
.odg – an illustration or graphic
What to do if you're sent an ODF file
If you are sent a file with one of the above extensions, but your software or operating system can't identify it, then simply download LibreOffice – it's free and open source software, originally based on OpenOffice.org, and handles all of the above extensions.
Google Docs is an online office suite that allows the creation and collaboration on online documents in real-time and from any device. The following are the features of Google docs.
There are two different options for using Google Docs: free for personal use or Business standard for $12 USD.
For Personal (Free)
Business Standard
$12 USD/user/month
Docs, Sheets, Slides, Forms content creation
Yes
Yes
Drive Secure cloud storage
15 GB per user
2 TB per user
Shared drives for your team
no
Yes
Gmail Secure e-mail
Yes
Yes
Custom business email
No
Yes
Meet Video and voice conferencing
100 participants
150 participants
Meeting recordings save to Drive
No
Yes
Admin Centralized administration
No
Yes
Group-based security policy controls
No
Yes
Customer support
Self-service online and community forums
24/7 online support and community forums
Figure 4.4 shows a screen capture of Google Docs editing menu.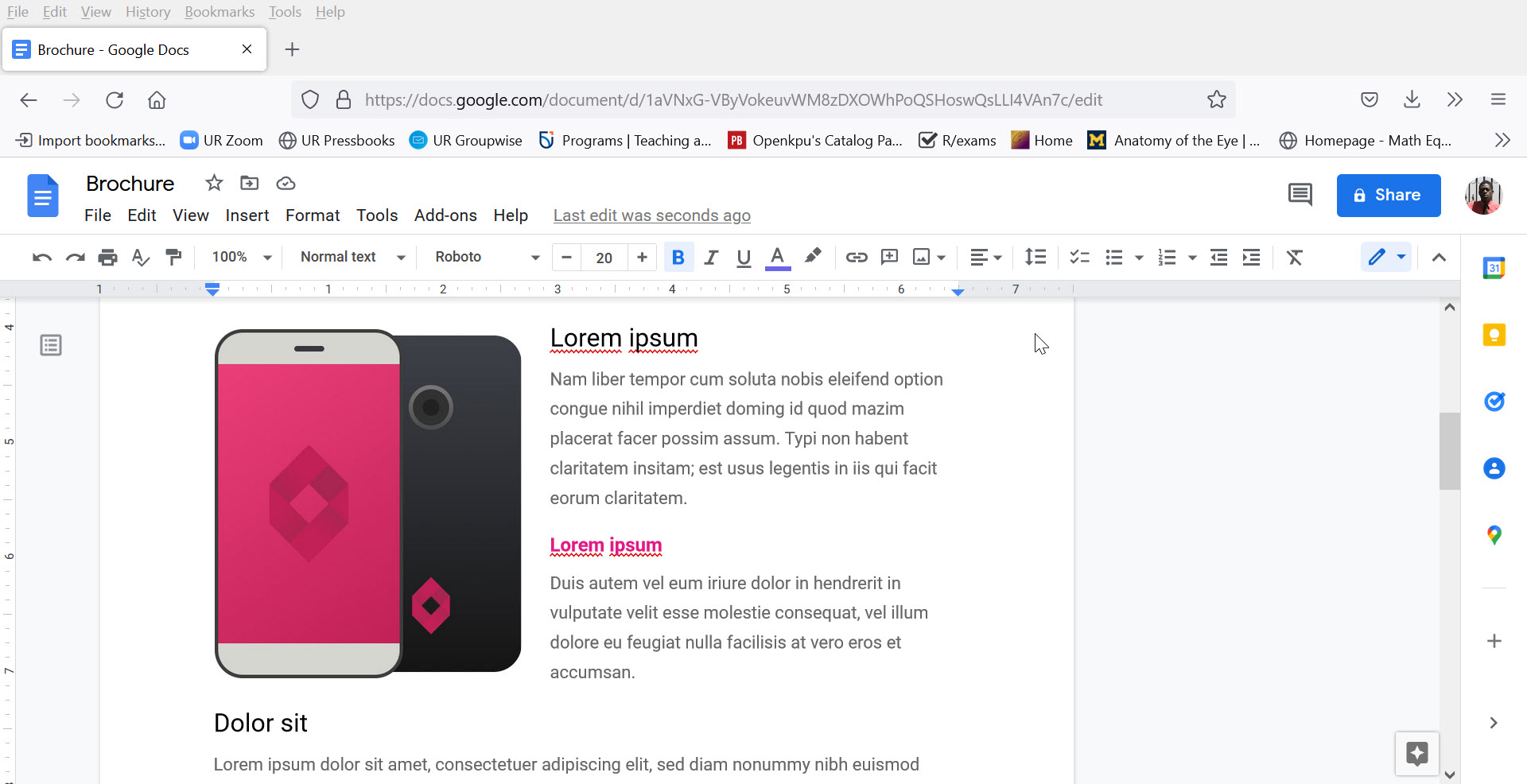 There are some similar editing menu tab items. The one that is different is the Add-ons tab option that allows one to extend the features of Google Docs. On the right side of Figure 4.4, there are the following options:
Calendar – add items to the calendar
Keep – Take notes for the document
Tasks – add some tasks
Contacts – access the contacts in Google
Maps – access Google Maps
Get Add-ons – one can add additional add-ons
At the top right of this editing screen is an Editing tab which allows collaborative editing. Another tab adds comments and shows the comment history. The final item is the Share button.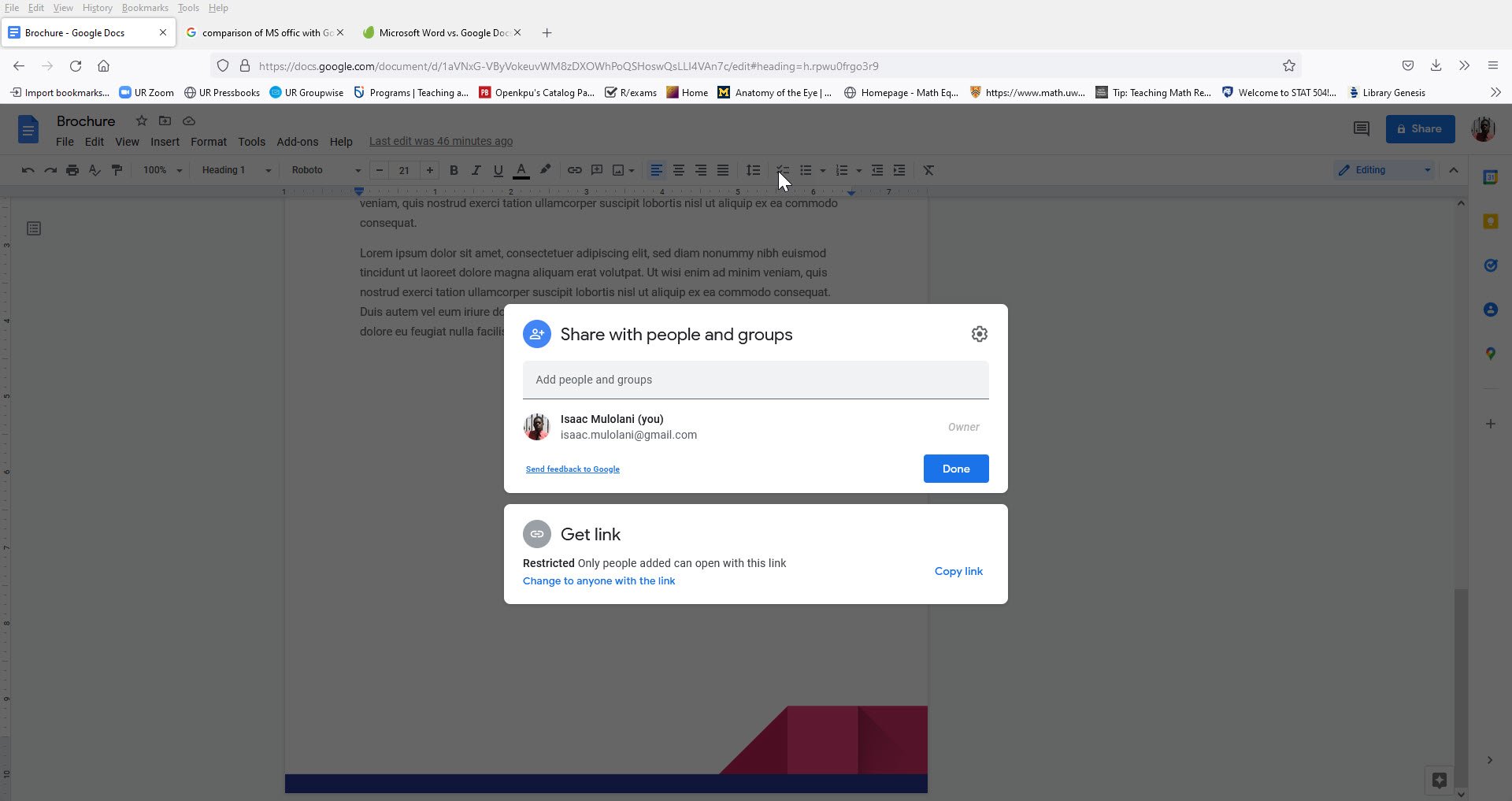 This provides the option to share a document  with other people, groups  or provide a link that provides everyone with the link access to the document.
Google Docs
Microsoft Word
Overall Findings

Free for all features.
Easy to use from anywhere.
All the basic editing tools most people need.
Useful and simple sharing options.

Robust desktop program.
Great for offline work.
Free during the trial period.

Cost
Its all free
Free only during a limited-time trial
Features

Lots of basic features.
Useful for light writing requirements.
Can open DOCX files from Word.

Extensive menus full of options.
Ideal for research and writing.
Accepts several document file formats.

Mobility

Website access from anywhere.
Mobile app for Android and iOS.
Consistency no matter where it's used.

Runs on Windows and Mac.
Mobile app for Android and iOS.

Sharing

Ultra-fast collaboration.
Built-in email form.

Delayed updates when working with shared files.
Requires a desktop email client.

Offline Usage

Relies on an active internet connection.
Supports offline access but it's off by default.

Runs entirely offline.
Easy to save documents to attached hard drives.
Table 4.1 Comparison of features between Google Docs and Microsoft Word.[1]
When looking at this feature comparison, it is clear that both tools are useful for different purposes. Google Docs is perfect for those who don't want to pay for a word processor but still need a functioning method for viewing and editing documents. Google Docs still works with Word files and has all the features most people need. It is also easier to understand and works great for sharing and backing up documents. On the other hand Word has more features and has long been the business standard.  To get an updated version of Word installed, you will have to pay for all those benefits.
Open-source Tools  for use with Word Processors
In this section, we describe some additional tools that can be used in combination with the LibreOffice suite of tools. GIMP is an open source cross-platform image editor available for GNU/Linux, macOS, Windows and other operating systems. Inkscape is Free and Open Source Software (FOSS) licensed under Gnu General Public License. Inkscape is free! By this, we mean it is free of cost, free to use and distribute, and open to peek into the source code if you wish to do so.
Gnu Image Manipulation Program (GIMP)
GIMP is an acronym for GNU Image Manipulation Program. It is a freely distributed program for such tasks as photo retouching, image composition and image authoring. The terms of usage and rules about copying are clearly listed in the GNU General Public License. There is a nice Frequently Asked Questions (FAQ) page.
The GIMP program is a cross platform image editor available for multiple operating systems. Since it is free software, you can change its source code and distribute your changes. Whether you are a graphic designer, photographer, illustrator, or scientist, GIMP provides you with sophisticated tools to get your job done. You can further enhance your productivity with GIMP thanks to many customization options and 3rd party plugins.
GIMP provides top-notch color management features to ensure high-fidelity color reproduction across digital and printed media. From the program's website we are told that GIMP is best used in workflows involving other free software such as Scribus, Inkscape, and SwatchBooker.  These are other open-source tools that are under a GNU General Public License.
Features of GIMP
GIMP is a versatile graphics manipulation package. The following H5P provides a summary of some of the features of the tool.
Inkscape
Inkscape has been developed for designers of all kinds. The tool allows you to take a project from a doodle on a napkin to a final professional-grade design format which is ready for publication on the web or in physical form. If you are new to the process of creating vector graphics it may feel different, but you will quickly be pleased by the flexibility, and power Inkscape offers. Vector design is often the preferred method of image creation for logos, illustrations and art which require high scalability. The Inkscape application is used across a wide variety of industries (marketing/branding, engineering/CAD, web graphics, cartooning) and individual uses.
Features of Inkscape
In this section, the features of Inkscape are briefly described. The H5P summarises these features.
These features appear similar to those found in the commercial tool Adobe Illustrator. For this reason, some people consider Inkscape to be an open-source version of Illustrator.
---